Description
Our premium personalized minky stroller blankets feature a loop sewn into the blanket that is large enough to attach it to strollers, baby carriers, and any place you'd want your minky blanket to stay in place. They are luxuriously soft and oh so practical.  As with all Audrey & Bear blankets, you have the option of a single sided, one layer blanket with a white backside or a double sided blanket made with two layers of fabric sewn together with a print on each side. Our stroller blankets are a must-have for any outing with a baby and will quickly become a travel favorite.
Interested in customization? At Audrey & Bear we specialize in customizing the fonts and colors in all of our designs to match your style. Click the box in this listing and a designer will reach out to you via email after you purchase and together you can create your own masterpiece.
Details and Care
Premium lightweight minky fabric

One size: 28" x 34"

2 thickness options

Features a loop with snaps, easily attachable

Personalized

Customizable

Designs unique to Audrey & Bear

Wash in cold and tumble dry low

NEVER DRY ON HIGH HEAT, it will melt

Always handmade in the USA
Questions
For any questions please email friends@audreyandbear.com
Material & Care
Care: Machine wash cold, tumble dry low.
Reviews
Customer Reviews
Write a Review
Ask a Question
Amazing stroller/car seat blanket
I bought this for a friends grandson! Everyone loved it! I know he will have it for years to come! Quality, design and material too notch
05/24/2022
Sierra R.

United States
So soft!!
It keeps my little super warm and comfy, you can tell she loves it and snuggles with it. It is also great how you can customize it to make it yours.
05/03/2022
Sarah F.

United States
So soft!
I love the minky blankets for how soft they are & the design was exactly what I wanted! These are my favorite thing to gift new moms!
04/19/2022
Jamie T.

Canada
The softest blanket EVER!
The new double sided minky is the softest, warmest, snuggliest blanket. I want to replace all of our blankets with this new minky!!! It is the perfect size for naps and cuddles but not so big that baby is "lost" in it. We've used it in the stroller, car and while rocking in our rocking chair.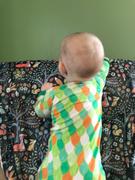 01/26/2022
Rebecca H.

United States
11/16/2021
Natalie T.

United States
Car seat blanket
We have ordered so many different items from A&B and have customized everything. Everyone is so easy to work with and even completely redo the design if you change your mind without hesitation. The car seat blankets we have gifted have been a huge hit for new moms!
11/09/2021
Heather H.

Canada
Bruce the moose
The mom and dad to be loved the blanket! We have one for our son too. They are so soft and cozy. Personalization was easy to add and it was delivered rather quickly (we're in Canada )
10/12/2021
Heather

United States
Perfection
I ordered a personalized blanket and hat combo for our baby. When he was born though he didn't get to use it as he went straight to the icu. He was there for 4 .days and then we're were discharged home. We got a free swaddle that was from Audrey and bear in a gift bag from them. It was so awesome to actually see the donation side of what this company does. I will forever be a repeat customer.
09/10/2021
Lynn F.

United States
07/21/2021
Cassie C.

United States
Baby blanket
The blanket is so soft! We love it!
05/14/2021
Emily J.

United States
05/11/2021
Summer G.

United States
Double use!!
I live in Florida where a car seat blanket is not needed but he's learning to sleep on a cot for daycare and the car seat blanket is the perfect size!! I opted out of having loops on it. I have now ordered two of them because my son loves to cuddle them so much. Highly recommend using it for car seat or in my case cot a sleeping!!!
04/30/2021
Viv U.

United States
Love luv love Audrey & Bear !
Huge fan of Audrey & bear! Bought my daughters first swaddle in 2018! Did the same for my son that was born this month. Designers are ALWAYS FRIENDLY AND COOL! I always recommend Audrey & Bear to any parents-to-be
04/27/2021
Katie S.

United States
Adorable!
Great help with font etc. Pattern was so cute !
04/08/2021
Hiba A.

Canada
My favourite blanket!
The quality of this car seat blanket is amazing. I love the size of it too. It's super soft and customized exactly how I wanted!
03/26/2021
Hannah n.

United States
The perfect gift
I purchased this for the sweetest friend and her second baby girl. I sent my designer a picture of the name board in my friend's nursery, and she matched the fonts so beautifully. It looked like they were a set. I only made slight changes with the background color and fonts. My friend absolutely loved it and said she was feeling guilty about not having personalized items for baby #2 the way she did for #1. I felt so grateful that I was able to purchase such a meaningful gift!