Description
Celebrate your wondrous babe by wrapping them in our cozy Audrey & Bear swaddle blankets. Brighten every milestone with fully customized keepsakes—created by you.
The process is easy: An Audrey & Bear designer will help you choose your colors, patterns, and personalization, for a "Bearloom" you'll treasure always. Each is handmade in the USA; and with every order, you'll help swaddle a NICU baby and their family in love.
Let's design your story
Available in 3 sizes
Square 43" x 43"
Rectangle Small 28" x 34"
Rectangle Large 34" x 54"
Thickness and Design Options
Single-Sided: One layer of fabric - Design on the front side and white on the backside
Double Layer: Two layers of fabric - Design on both sides
Due to the nature of our high-quality handcrafted products, please kindly allow size variations up to 1 inch.
GUARANTEE

Work with a designer until you are completely satisfied with your design or your money back.  If at any time you are unsatisfied as you work on your design with your designer, you can let your designer know you would like to cancel. Once you approve your design, our standard cancellation policy applies.
It is at the discretion of management to discontinue iterations between a designer and customer on design and issue a refund.
Material & Care
Material: Poly/Spandex blend made specifically for our products.
Care: Machine wash cold alone. Gentle cycle. Line dry only.
Design Your Story
Customize this design to create a one-of-a-kind keepsake that celebrates your unique story. Here's how it works:
Once you've found the design you like, select "add customization" and proceed through checkout.
Within 72 hours of placing your order, an Audrey & Bear designer will be in touch via email from orders@audreyandbear.com
Collaborate with your designer to change the fonts and colors of the design until it's absolutely perfect!
Once you approve the digital proof of your final design, your order will go into production.
It typically takes 2-3 weeks from design approval to ship your custom creation.
Colors
Fonts
Reviews
Customer Reviews
Aubrey
United States
01/05/2021
Parker is here!
One of my dearest friends just had baby Parker on 12/29! I'm so excited to get her, her swaddle. While I'm a few days late it is worth the wait. I know mom and baby will absolutely adore the swaddle for many years to come. Though they live many miles away, sharing the love with the warmth of a hug is just the perfect gift! I can't wait to update with a picture of baby and swaddle!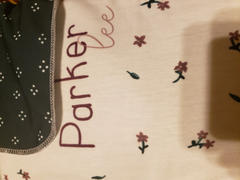 Aubrey
United States
01/05/2021
Absolutely in love
From looking through designs, to finding the perfect one! My best friends baby was born in April 2020, they live a few states away. I love nothing more than a personalized gift that she can remember and hold onto forever. The swaddle for swaddle is just an added plus to the love that come from the whole ordering and gifting process. While she hasn't gotten her swaddle yet, I cannot wait to share an update with baby and swaddle! I was a little late in ordering as I had hoped to get all of our friends babies orders all at once, Carolyn will get her swaddle for her first birthday!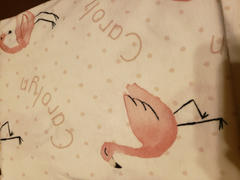 Kelsey S.
United States