Description
At Audrey & Bear, we want to pamper you all with our adult size blankets that tell your unique story. Each is handmade in the USA with love in every stitch and customized by you with the help of your very own designer. Minky frontside and lined with white sherpa on the backside, they make great gifts for the whole family.
It's super easy: An Audrey & Bear designer will help you choose your colors, patterns, and personalization, for a "Bearloom" you'll treasure always. Each is handmade in the USA; and with every order, you'll helpswaddle a NICU babyand their family in love.
Let's design your story
Enjoy one of two sizes Audrey & Bear offers in our Adult Size Blankets:
Large size - 60" x 70"
XLarge size - 60" x 84"
Due to the nature of our high-quality handcrafted products, please kindly allow size variations up to 2 inches.
GUARANTEE
Work with a designer until you are completely satisfied with your design or your money back.  If at any time you are unsatisfied as you work on your design with your designer, you can let your designer know you would like to cancel. Once you approve your design, our standard cancellation policy applies.
It is at the discretion of management to discontinue iterations between a designer and customer on design and issue a refund.
Material & Care
Material: Minky front side with a soft white sherpa backing
Care: Machine wash cold, tumble dry low.
Design Your Story
Customize this design to create a one-of-a-kind keepsake that celebrates your unique story. Here's how it works:
Once you've found the design you like, select "add customization" and proceed through checkout.
Within 72 hours of placing your order, an Audrey & Bear designer will be in touch via email from orders@audreyandbear.com
Collaborate with your designer to change the fonts and colors of the design until it's absolutely perfect!
Once you approve the digital proof of your final design, your order will go into production.
It typically takes 2-3 weeks from design approval to ship your custom creation.
Colors
Fonts
Reviews
Customer Reviews
Desiree

Canada
01/08/2021
Christmas gift
This is my second mom blanket and was a christmas gift to myself I decided to mix my daughter and I birth flowers and trees and I wanted to put that message in the center to motivate me and remind muself of what a great job I am doing. We cuddle with it and will do so for as long as we can As always, the process is amazing and the designers are awesome. I am always grateful to A&B to allow me to create those pieces that I will cherish forever ❤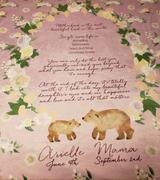 Raquel B.

United States
01/07/2021
A Blanket for Momma
Love my momma blanket that is "dad-sized" for extra snuggling with my sweet babies! Super soft and love that I could customize it for myself and not just my kiddos! Extra design fee for the saying in one corner but so worth it! Don't forget to treat yourself with their amazing products! Love that the color turned out perfect!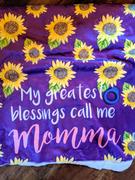 Erin R.

United States
01/07/2021
Grandparents Blanket Best Christmas Present
I ordered an adult size blanket for my parents for Christmas... my daughter drew the pictures and wrote the words... it was so easy to get the pictures submitted and then get it colored and finished to perfection My parents love the blanket they said it was their favorite Christmas gift... they take it everywhere and love that it's so soft... super easy to customize designers are awesome and able to perfectly capture my vision!